Since 1958, the Wadsworth Golf Construction Company has built more than over 800 golf courses, including several world renowned golf courses. In 1980, company founders, Brent and Jean Wadsworth, established the Wadsworth Social Responsibility program, which led to their creation of the Wadsworth Golf Charities Foundation in 1997, in honor of the Company's 40th year anniversary.
The Foundation has funded programs and projects throughout the country for youth and adults that have embodied the mission of the Wadsworth Golf Charities Foundation.
In 2004, the Foundation began an additional focus of establishing joint partnerships with a community, hospital, park district, school district or foundation to create multi-purpose golf facilities for all to enjoy – – – "to help communities benefit more fully from the way of life that is golf."
Then in 2008, with the pressing need to do more in "Expanding The Game of Golf," the Wadsworth Foundation launched its new initiative – Links Across America, which involves creating a team of Company Partners for the Golf Industry to develop "feeder short courses" (three, six or nine-hole) across the country that provide affordable golf for youth, families, adult beginners and individuals with injuries and disabilities from all ethnic backgrounds
As the Wadsworth Golf Construction Company begins its 52nd year, and the Foundation reaches its 13th birthday, the Wadsworth Foundation will have contributed over 4.5 million dollars to organizations and programs that embody its mission: to make golf and the character–building attributes of the game more accessible to more people, with the ultimate goal of not only enhancing lives but helping to build stronger communities.
Contribution History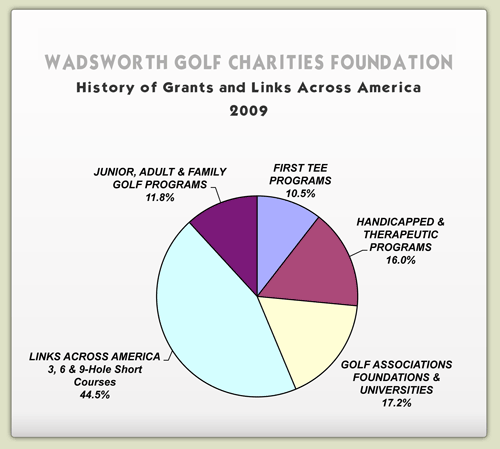 Learn More
To find out more about how the game of golf and Wadsworth Golf Charities Foundation are changing the world, Contact Us today.
Get Involved
Visit our How You Can Help page for a list of ways that you can share in the Foundations mission.